La fotoperiodista Maysun cuenta lo que había detrás de una de las imágenes que expone, junto a otras 13 reporteras, en Turín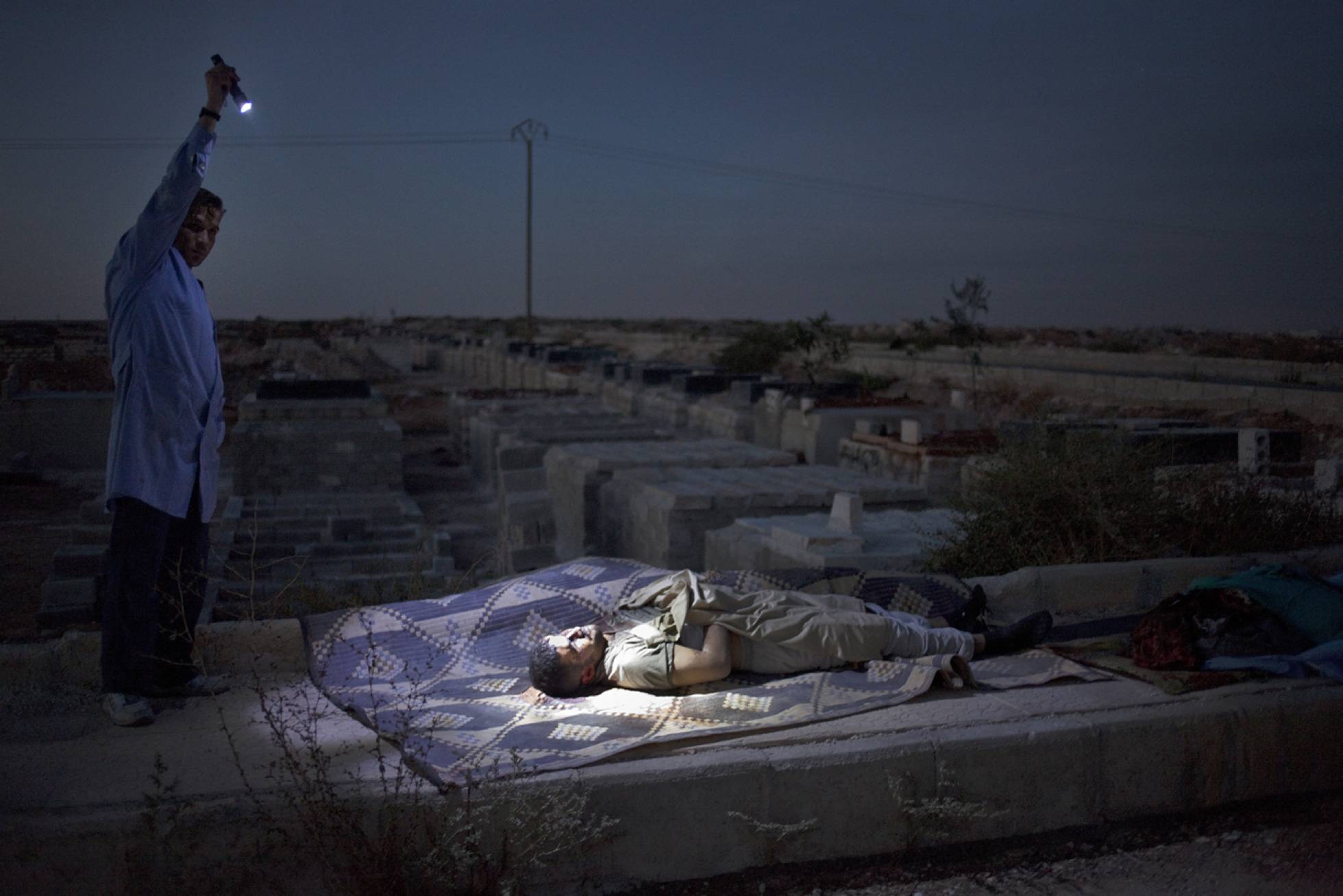 Alepo. Cada día una masacre. Cada día heridos, más heridos. Y muertos, más muertos. Centenares de ellos. Un hospital, el Dar al Shifa, en el que solo tres de sus nueve pisos estaban utilizables y en la planta baja, una pequeña habitación al lado de la entrada como depósito de cadáveres. Allí, dos cuerpos inertes, uno de ellos sin cabeza, permanecían olvidados. Nadie había podido identificarlos. Después de varios días fueron cargados en la parte trasera de una vieja furgoneta de reparto de fruta para llevarlos al cementerio. Maysun (España, 1980) y un colega subieron a aquella furgoneta. Este es el inicio de la historia de una de las fotos que la fotorreportera hizo en aquel cementerio el 13 de octubre de 2012.
Esa imagen, la que abre este artículo, es solo una de una serie que Maysun envió a la EPA (European Pressphoto Agency) durante su cobertura de la guerra de Siria en uno de sus primeros viajes al conflicto, en 2012. Ahora, también forma parte de la exposición En primera línea. Fotorreporteras en zonas de guerra que la Fondazione Torino Musei ha organizado en el Palacio Madama de Turín (Italia) y que es una apuesta por exhibir el trabajo de la mujer en la Historia, no solo como creadora, sino como protagonista.
Hasta el próximo 16 de enero, el trabajo de Maysun estará dentro de esa residencia real, y la fotógrafa ha elegido esta, la del hombre que sujeta una linterna sobre un cadáver, para desnudar lo que hay detrás: "Una de las fotos de aquella serie fue muy publicada, llegando a ser portada de The New York Times. Esta otra pasó un poco más inadvertida, y creo que merece ser mostrada un poco más".
¿Qué pasó después de subirse a aquella furgoneta?
"Apenas había luz. No había nadie para enterrarlos, por lo que dejaron los cuerpos en el suelo, cubiertos con una manta. En el camino de vuelta a la carretera, Ahmad, un combatiente del Ejército Libre Sirio (ELS, comúnmente conocido por sus siglas en inglés, FSA), no podía dejar de decirme: "Ya haram! Ya haram! (¡Esto es pecado!) ¡Debemos enterrarlos! ¡Los perros se los comerán!
Volvimos al cementerio al caer la noche tras haber parado y convencido a varias personas para que nos ayudasen a enterrarlos. Al tratar de enterrarlos en una fosa común, un avión pasó varias veces sobre nosotros. Tuvimos que apagar todas las luces, una linterna y el brillo de nuestros teléfonos móviles. Les enterraron tan pronto como pudieron, deprisa, sin nombres, ceremonias o luto.
Sentí tristeza, acallada por el miedo y la excitación de poder vivir un momento importante desde el punto de vista periodístico. Tristeza por las personas que estaban siendo enterradas sin identidad, sin familia que supiera qué había sido de ellas. Tristeza por la absoluta violencia que los sirios tienen que soportar a diario, no solo física, sino mental, por la falta de normalidad en cada uno de los momentos que viven a diario. ¿Qué vendedor de fruta, carpintero, agricultor o abogado querría ser parado en medio de la carretera para enterrar a oscuras en una fosa común a dos cadáveres sin identificar, uno de ellos sin cabeza? La guerra no tiene sentido, pensé. Lo sigo pensando.
Varios días después, descubrí que Ahmad se encontraba desaparecido cuando el Régimen Sirio bombardeó el hospital Dar al Shifa, por octava y última vez, hasta reducirlo a escombros. Hasta comienzos de 2013 no tuve noticias de él. Estaba vivo, aunque psicológicamente tocado, por lo que me contaron. Tres años más tarde, no sé qué ha podido ser de él.
La guerra de Siria, es una de las más terribles y sangrientas que hayan existido desde el comienzo del siglo XXI es, hoy y tras más de 5 años de pura barbarie, la guerra más peligrosa para un periodista, por el altísimo riesgo a ser secuestrado y asesinado".
Pensamiento colectivo
A Maysun la vocación no le llegó en un día, poco a poco se dio cuenta de la necesidad que sentía de documentar lo que la rodeaba. Empezó estudiando Arqueología, aunque luego quedó en el tintero. En 2001, para complementar aquello que había empezado, estudió fotografía profesional, a lo que después sumó un posgrado de Fotoperiodismo en la Universidad Autónoma de Barcelona.
Tres años después ya estaba documentando la comunidad palestina de Zaragoza y Cataluña: era, en cierta forma, investigar su propia identidad: Maysun es española y palestina. Actualmente vive entre España y Kenia, y desde 2005 inmortaliza el mundo de la política, conflictos sociales y problemas ambientales en España, Birmania, Tailandia, Kosovo, Palestina e Israel, Líbano, Gaza, Italia o Siria, entre otros muchos lugares. Su trabajo ha sido publicado en medios como The New York Times, TIME, National Geographic, The Guardian, The Wall Sreet Journal; y colabora regularmente con agencias como EPA, AFP o Corbis.
Ahora, su trabajo forma parte de una muestra que reivindica a la mujer. Ella asegura que el futuro solo es posible si hay un pensamiento colectivo: "El feminismo, que no hay que confundir con hembrismo, lo opuesto del machismo y que busca la supremacía de las mujeres sobre los hombres, defiende la búsqueda de igualdad de derechos y oportunidades en la sociedad sin distinción de género, raza, edad, condición social o sexual; y creo firmemente que, tanto hombres, mujeres y transgénero deben ser feministas. El éxito de la sociedad pasa por que dejemos de separaros continuamente por etiquetas definitorias y pensemos en el bien común".
by : ISABEL VALDÉS – EL PAIS